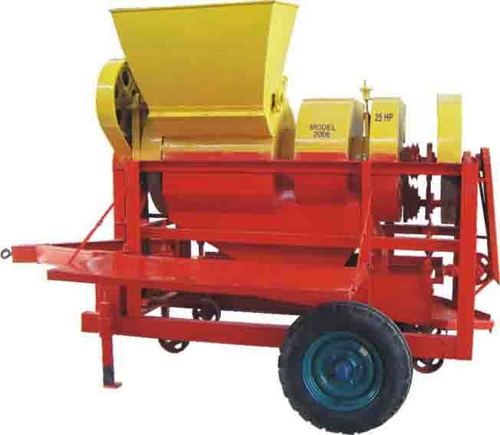 Rice is a major staple food in pan India. This important cereal is cultivated in more than season in India. The regions that grow rice require machinery both for cultivation and threshing. People used to cultivate rice manually but due to the large scale production manual work is not enough. With each passing time the demand for the thrasher has increased as per Paddy Thresher Supplier in Rajasthan. Here, in this article you are going to read about features of a thresher.

Silent Features of Paddy Thresher

According to a Paddy Thresher Supplier in Jaipur, a threshing machine has different parts. Like every other machines, thresher has a main frame. Along with that there are fee hopper, threshing cylinder, concave, and lastly a blower. So, let's break it down one-by-one-

Main Frame
The main frame is the outer most body that holds other parts together in a place. Even the wheels are attached to the main frame of a paddy thresher. It also contains pole shaft and yoke. The frame is made of iron that is corrosion resistant.

Feed Hooper
According to a Paddy Thresher Supplier Rajasthan, it is a light-weighted steep sheet.

Threshing Cylinder
It is a drum-type structure and a moderate cylinder comes in 400 mm diameter. The surface is made of cast iron.

Concave
It is semi circle in shape and it is made of steel rods.

Blower
It is a centrifugal blower and it blows away the light-weight plant materials. While the machine start paddy threshing the outer plant materials come out and the blower fan blows away to clean the paddy.

While discussing about the features you cannot overlook its wide application facility. The latest technology increased the overall efficiency of the paddy thresher. So, threshing process has become much easier and smooth. It can thresh various crops, and successfully separates the husk; so, buying such machine is surely cost-effective.

As the technology came a long way, so the machine offers high-security. The motor offers protection against short circuit, and also has an auto-control facility. On the other hand, technology made machines compact. So, it will not take much space at your farm, and it is easy to operate. Even though the efficiency is high, the maintenance is not.

The scientific design offers reliability on quality. The machine is resistant to rust, moisture and acidic substance. These are the features that you need to keep in mind while purchasing a paddy thresher. It is always safer to choose a reliable dealer for quality product.

If you want to get a thresher then, you can choose a Paddy Thresher Supplier in Rajasthan. It is needless to say how the machine is advantageous. It reduces manual labor and facilitates the entire work. Along with that, machines cause lesser breakage of seeds while threshing. So, buying a paddy thresher will be a wise investment for your farm. It is a onetime investment because; thresher bough from a reputed company will run a long way.
This entry was posted on November, 18, 2020 at 17 : 24 pm and is filed under Paddy Thresher. You can follow any responses to this entry through the RSS 2.0 feed. You can leave a response from your own site.